Hey guys Kevin here with Lifestyle Overland. In this article we're going to take an in-depth look at the new Garmin Overlander GPS to see if it truly is a complete solution to off-grid overland navigation.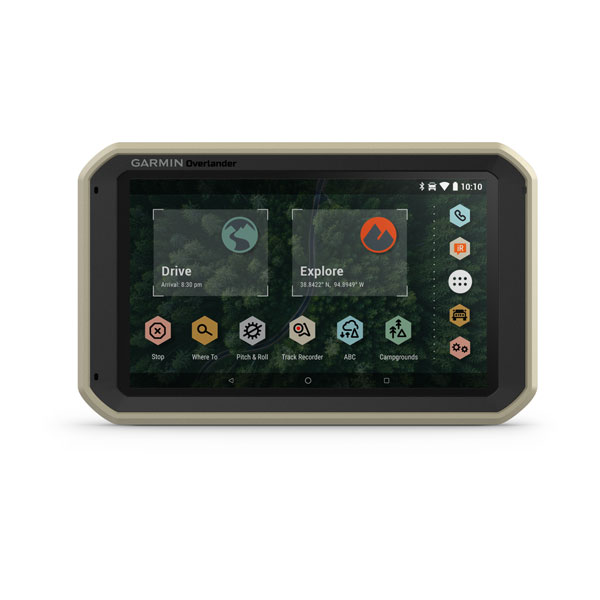 Disclosure
I want to give full disclosure on this product before we dive in; Garmin contacted us and offered to send us this unit for testing and feedback purposes. We have not been asked or paid to write this review (Lifestyle Overland is sponsored only by supporters on Patreon.com)
Our Promise
We are committed to giving you the full story and the whole truth on the products we use because at the end of the day; these are products we rely on to get our family home safe with after each adventure. If it doesn't do it's job, no amount of free products or sponsorship checks are worth our loss of reputation for promoting something that's going to leave you stranded.
Construction
Let's start with the physical construction of the unit itself. It has a ruggized IP5X Dust proof outer casing. Unfortunately, it's not listed as being waterproof but we'll touch on this in a bit. The unit itself weighs in at just under a pound and overall has a good feel to it. The specs say this is mil-spec tested to MIL-STD-810 which means it's rated for drops from about 4′ onto a concrete floor with 1/2″ of plywood surface… we've not done any drop tests ourselves just yet so take that for what it's worth.
On the side of the unit you have a micro sd port which you can use this to load tracks or waypoints straight onto the device. There's also a charge port and 1/8″ audio jack under here as well.
The unit operates on the Android OS with an internal memory capacity of 64 GB. There's no way to load the Google Play store since this unit is locked to the Garmin pre-installed apps only .
The back features a magnetic charging base which snaps onto the included Ram Mount dock. Just keep in mind you'll have to have your own Ram Mount base and connector to install this into your vehicle.
Features
This is the home screen where you can jump straight to one of two different navigation modes. Drive is a 3D landscape mode that gives you a heads up view of the upcoming terrain and road and Explore is your traditional top down view of the map. This unit comes pre-loaded with Garmin's North America Topo Map along with Open Street Maps for on-road navigation.
Like most GPS units of this caliber, it includes a Track Recorder which logs your track, speed, and altitude. This data can be synced to your account and shared with other travelers.
The unit utilizes GPS, GLONASS, and Galileo satellites with the onboard GPS receiver for an accurate location.
Public Camping & iOverlander
Under the Campgrounds icon you can get quick access to the pre-loaded iOverlander and Public Campground database which makes finding a place for the night (or weekend) a snap when you don't want to drive into the night hoping to stumble onto a wild camp.
Pitch and Roll gauges are handy for monitoring your pucker factor when things get a bit hairy.
Under the ABC icon you'll find your Altimeter, Barometer, and Compass data at a glance.
This unit gives you the option to control a Garmin InReach device for text messaging, weather reports, and SOS notification for emergency assistance. These features are all function off of satellite signal so you can stay in touch no matter your location.
Garmin InReach SE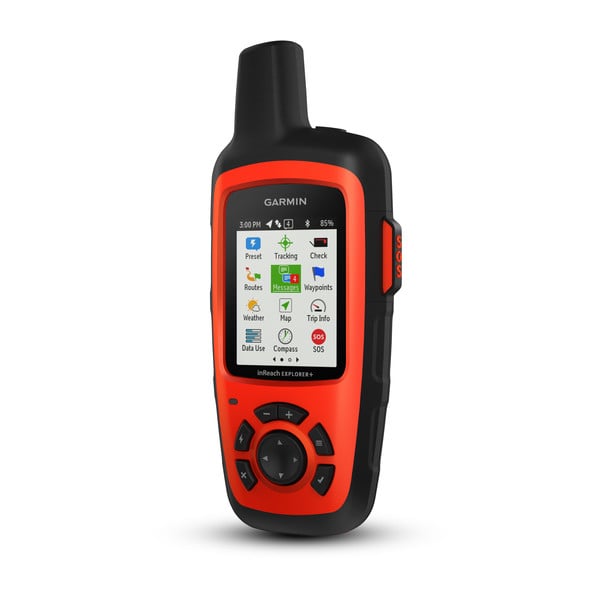 Garmin InReach Mini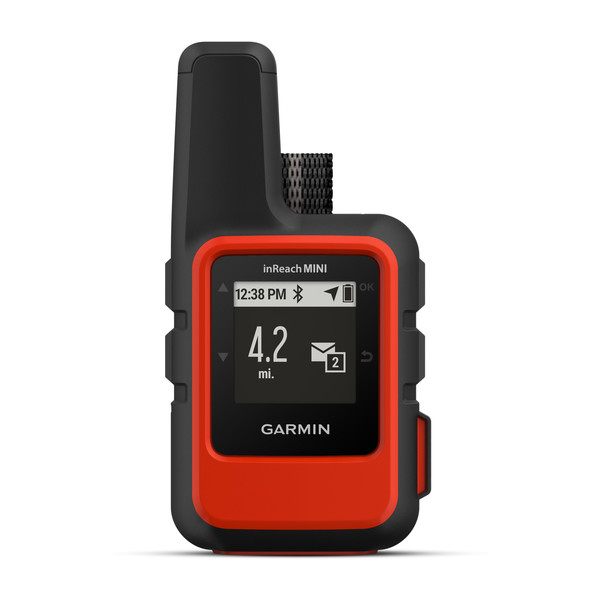 You can connect optional wireless Garmin cameras to this unit which go for about $160 each. This might be handy for the back of our trailer or maybe a nose camera for the trail.
There's also a traffic receiver option if you plan on driving to Overland Expo and need to know the fastest route to your booth or campsite. Just kidding, this would be handy for someone using this on a daily basis for their commute, then hit the trails with it on the weekend.
This unit also has a bluetooth receiver so if you've got an older vehicle that doesn't support bluetooth you can connect your phone to this unit for handsfree use which would a good fit for our Land Cruiser.
Real World Testing
We've been testing this unit for about 2 months now as we've been exploring the state of New Mexico. We've had the chance to test most of its features along the way and found some things that we liked, some we disliked, and a few that we think could stand some improvement.
What we liked…
1) PRE-LOADED MAPS
The first and most attractive feature of this unit is the pre-loaded maps. The topo map includes public land boundaries to assist you in legal travel and it actually has terrain shading built in so a quick glance at the unit gives you an idea of surrounding elevation without having to stare at the topo lines themselves to determine the lay of the land. The device also has Open Street Maps on board for basic point-to-point navigation.
2) DRIVING MODE
One of the unexpected features we liked about the unit was the heads up driving mode which has a 3D topo layout. It helps visualize what terrain lies ahead both on and off the beaten path. It was handy to help us be prepared for the next turn, hill-climb, or down grade.
3) VEHICLE PROFILE
The custom vehicle profile is a great feature for helping keep larger rigs or rigs with trailers out of a tight spot… though we found the warnings and prompts can become a bit excessive in some locations.
4) CAMPGROUND DATA
iOverlander and Ultimate campgrounds database comes pre-loaded which would have come in really handy while we were traveling in the Alaskan and Canadian bush. The addition of these databases was a great idea.
5) CHARGING MOUNT
Our favorite physical feature of the device is the ingenious magnetic charging mount which makes moving it in or out of the rig a literal snap with no cables to pull or clamps to release.
6) GARMIN INREACH
The InReach integration control for satellite texting, weather updates, and SOS capabilities is a great feature that pairs well with the optional Garmin device. We were pleased to find it even connected to our much older Delorme version of the inReach.
7) VOICE CONTROL
The voice command feature is fast becoming a standard for a lot of devices on the market but the beauty of this unit is that you don't need an internet connection to get the information you're after. This was another unexpected function that we surprisingly use quite often.
What we dis-like…
1) DRIVING VS. EXPLORE
We found that the driving mode is missing many forest roads when compared to the explore map. This was evident regardless of the zoom level so we're not sure why the same map data wasn't available in both views. This could cause you to miss a turn if you were relying on that particular view setting to find a forest service road.
2) MORE MAPS, EASIER DOWNLOADS
The additional downloadable map options are currently limited to USGS quads and satellite imagery. The method used to download them to the device is very cumbersome and time consuming requiring a lot of in and out navigation of the menu and map to get the right zoom level to allow the download function to operate.
3) MAP CONTROL
We were disappointed to find that any downloaded maps layers are either on or off, there's no way to blend the maps by using levels of transparency. The process to swap between layers is a bit cumbersome as well since you have to dive into the menu instead of just tapping a drop-down.
4) MAP DETAIL
Detail loss with zoom level. We found that you have to zoom in relatively close to get certain roads and labels to appear. We would like to see more detail at a wider view to make locating trails and points of interest a bit easier.
5) GARMIN VS. GAIA
When we compared map data against the Gaia GPS app there were a significant number of forest service roads and trails that were present in the Gaia app that were not displayed on the Garmin device. This could cause significant issues when attempting to explore an area or take an unexpected route out of an area to seek emergency help or repairs.
6) DATA SYNCING
While track and waypoint syncing is supposed to be a highlight of this system it did not work for us. After multiple attempts and even creating a new account in an attempt to get our data to sync… it lost our tracks from the past 2 months… all of them. We're hoping this was a random glitch and not a common issue.
7) THE PRICE
And lastly. The price… The current retail price for the Garmin Overlander is $700… And that's before any of the optional equipment.
We know it's very expensive to design, develop, and manufacture a dedicated hardware device such as this, and while we don't think there's a massive markup on this over actual cost… at the end of the day potential customers have to ask the question: Is it worth $700 to the average consumer?
How We See It
At this price point we think most overlanders are probably going to steer away from this device once they find that most of its features can be installed on a tablet or phone for a lot less cash. While the concept of having a dedicated device for navigation will certainly help with the stability of the software, it also limits people from using the device for multiple purposes.
In our opinion, the only way to entice more users is to offer more "bang for the buck" to justify the $700 investment. Now, we aren't writing this unit off just yet, but there needs to be some significant value added or a reduction in cost before the average user will be willing to take the plunge.
What We Want
So, what would make this a high value device and a real contender on the market? What functions or features would turn it into a one-stop-shop overland navigation solution?
We're glad you asked…
1) We would like to see higher quality maps with complete forest service road data and a better method of delineating the public land areas. As of right now, the maps appear quite grainy with how the public land is identified by stripes and it isn't easy to view while bouncing down a rough trail.
2) With the introduction of multiple map download options, we would like to see a multi-layer transparency adjustment method instead of basic on-off settings for each type of map. This will allow the user to blend the layers as needed to meet a certain need or scenario.
3) There absolutely needs to be a better download method for additional maps. This could be accomplished by offering either a regional or state option. Additionally this could be using a grid overlay with the option to select multiple squares to download.
4) We would also like to see more map and overlay sources available for download as well. MVUM layers, wildfire data, private land ownership, 72 hour precipitation forecasts, etc. would bring this device up to speed with other app options currently on the market.
5) Speaking of MVUM, just as reminder… it's up to you to ensure you're traveling on a legal route within the national forests. The only way you can be absolutely sure you're in the right is to have an official MVUM paper map or pdf download. We think the ability to download these to the unit and show your GPS location superimposed on the MVUM map would be a feature that would make this device extremely attractive to us for full-time usage.
6) We were a bit surprised that the effort to create a standalone outdoor device didn't incorporate some level of water resistance into the design. We would love to see future versions offered with water proofing for outdoor use which opens it up to the UTV market as well.
7) And our last suggestion is a big one… we would love to see the inReach functions integrated into this device instead of requiring an additional device (and $350+ more bucks). This addition alone would really help justify the price tag and offer something no other device or app on the market can.
CONCLUSION
Garmin is a massive company with the personnel and resources to mold this product into an extremely powerful and intuitive navigation device. It's our sincere hope that with feedback from users like us along with a commitment to pursue the needs of the overland market; it will become a constantly improving platform which will continue to grow in value.
As of right now, the main reason to buy this unit due to its "grab and go" appeal. Think of this way; you could literally jump in the rig, power this up, and navigate across the country without ever having to download a single file. That's a huge advantage!
Combine that ability with the onboard iOverlander and Public Campground database and you would never even have to have cell service to create an epic adventure. We believe these two primary features alone will appeal to a large number of folks looking for a very simple way to get outside without having to do a lot of research or map downloading onto other devices.
Now, throw in the ability to text via satellite, communicate with support during an emergency, and download weather reports with the optional inReach device and you've covered a significant list of important functions for the average traveler.
So, has Garmin done it? Have they changed the game and given us a device that will trump all other navigation methods on the market. Not quite…
Have they developed a device that has the potential to become a true contender in the overland navigation market? Absolutely!
At the end of the day it's the value factor that will ultimately determine whether or not it's worth $700 to the average traveler.
As for us, we're going to continue to use this alongside our other navigation apps due to the benefit of the basic pre-loaded information which gives us a bit of redundancy in case one method fails. If we continue to see significant improvements as Garmin rolls out updates, we will be back here with another article to share what we've found.
Final Thought
I want to leave you with one parting thought: You must understand that YOU are responsible for your own safety. And YOU are responsible for ensuring that you are traveling a legal route. We highly recommend that no matter what you choose as your primary device, that you have multiple means of navigation in your kit. Electronics can die, downloaded data can become corrupted, GPS signals can be disrupted, and if you're relying on a single point of failure, you could be left in a bad situation. So, don't let the perceived security of any device keep you from doing your research of the areas you travel and be prepared get back to civilization using multiple methods.
Remember, paper doesn't need batteries and a compass only points one direction.
If you enjoyed this review then consider supporting us on Patreon.com and get bonus content while helping us keep the wheels turning.
Until next time, Safe Travels.
GARMIN OVERLANDER OFFICIAL SITE